13 June 2023
Hydrogen could present a real opportunity for terraced houses and flats located in seven of the 12 Local Distribution Zones (LDZs) across England and Wales, according to a new report from National Gas.
The UK's housing stock is incredibly varied, ranging from detached and semi-detached properties to terraced homes and apartment blocks.
With 80% of the buildings that will exist in 2050 already built, the UK faces a big challenge to retrofit existing properties with low-carbon heating systems, in order to meet net zero targets by 2050.
While there are many options available to decarbonise homes, heat pumps are frequently cited as an efficient means of both reducing a household's energy bills and carbon emissions. Indeed, the Government's Boiler Upgrade Scheme is intended to further incentivize the uptake of this technology.
Yet according to the International Energy Agency just 1% of the UK's buildings have a heat pump installed. Cost is likely a limiting factor. An air source heat pump typically costs between £6,000 and £13,000, depending on the model and size, whereas a ground source heat pump can be as much as £14,000 to £19,000. For many, the upfront capital investment required to switch to a heat pump is simply not feasible. However, it's worth noting these prices are predicted to fall over time, as the technology becomes more widespread.
And while - as the report from National Gas highlights - the installation of heat pumps is beginning to increase in more rural areas, the technology does have some limitations when it comes to its suitability for properties like terraced houses and flats. The limited available space of these homes can be a real issue, as heat pumps need to be installed outside and on the ground in order to operate.
Terraced houses and flats account for 57% (13.6 million) of England and Wales' housing stock, and are particularly concentrated in urban areas. In fact, National Gas states that 76% of those properties can be found in seven of the 12 LDZs, with hydrogen potentially offering a low-carbon heating solution to these homes.
As a low-carbon, clean gas, hydrogen is produced from natural gas with carbon capture, or alternatively through electrolysis using renewable energy. Project Union, which will connect hydrogen production centres to industrial, heat, transport and power consumers, is gaining pace. As a result, hydrogen could provide an answer on how to decarbonise these types of properties in the seven LDZs identified.
Delivering a 2,000km hydrogen 'backbone' for the UK, Project Union will repurpose existing assets alongside new ones to create this infrastructure, which will represent around 25% of the UK's current natural gas transmission pipelines. This approach will be five times more cost-effective than building a completely new system.

Density of terraces and flats
For properties where heat pump technology is unsuitable, hydrogen could play a vital role in decarbonising terraced houses and flats in these seven areas.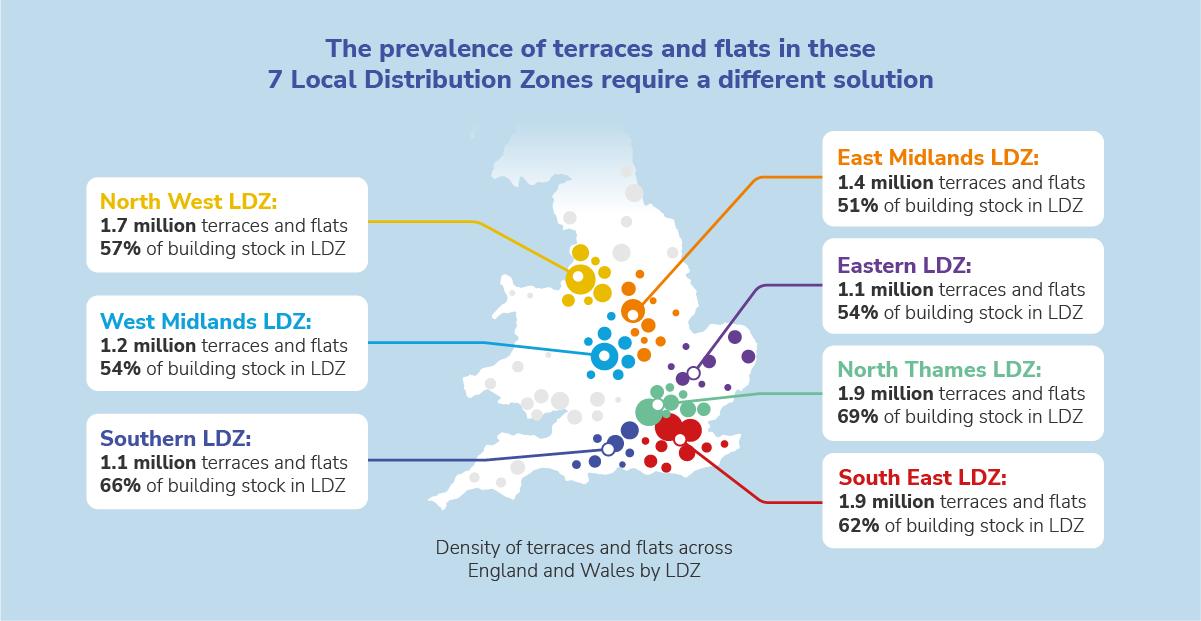 National Gas: Regional Differences in Domestic Heat
Visit the National Gas website to watch a video explaining their Regional Differences in Domestic Heat report.
You can find this and other information under the 'Publications and events' section.

Get in touch
To learn more about how Xoserve supports the decarbonisation of gas, make sure to subscribe to our DeliveringDecarb monthly newsletter.
If you have any questions, feedback or suggestions for our Decarbonisation Team, please email us. 
Related links
Decarb Discussions
We're exploring the gas industry's road to net zero with our dedicated podcast.
Listen