To help decarbonise our natural gas network, blending hydrogen holds real promise and potential. But what does this process involve? How will consumers and industry be affected? And what impact will hydrogen blending have on a consumer's energy bill?
We spoke to four industry experts on the challenges, opportunities and considerations that need to be given around this important issue.
Contributors
James Earl, Director of Gas at the Energy Networks Association
Megan Bray, Market Development Lead at National Grid
Bethan Winter, System Operations Manager at Wales & West Utilities
Joel Martin, Biomethane Connections Manager at SGN
What is hydrogen blending?
Let's start with the first obvious question - what exactly is hydrogen blending?
"Hydrogen blending is essentially putting a proportion of hydrogen alongside the methane that's currently in the national gas network," explains James Earl, Director of Gas at the Energy Networks Association (ENA). "At the moment, safety regulations allow 0.1% of the gas in our pipelines to be hydrogen. With hydrogen blending, we're looking to raise this figure quite substantially - to 20% - while making as few changes as possible to our existing facilities and network."
The role hydrogen blending could play in tackling the climate emergency is significant. Blending up to 20% hydrogen into the gas grid with existing natural gas could save around 6 million tonnes of carbon dioxide emissions every year - the equivalent of taking 2.5 million cars off the road*.
If this is the case, why have we not already started to blend hydrogen into our gas network?
"In order for this change to happen, the Health and Safety Executive (HSE) needs to first review the safety evidence from projects such as HyDeploy and the FutureGrid initiative," says Megan Bray, Market Development Lead at National Grid.
HyDeploy involved Northern Gas Networks, Cadent, the Health and Safety Executive, Keele University, ITM Power, and Progressive Energy all working closely together, to test the success of blending hydrogen. The second phase of this project saw nearly 700 consumers in Winlaton supplied with a hydrogen blend - the first ever public network trial.
Meanwhile, FutureGrid seeks to build a hydrogen test facility in Northern England. This will provide an understanding of how the gas network needs to be developed and operated, to support transporting hydrogen to customers.
"Evidence for these projects will be submitted at the end of the year," continues Megan. "We also need to make sure there's a suitable market and commercial framework in place, and some operational processes will need to be changed too. Then, we can begin blending."
*ENA - #H2Explainer: Hydrogen blending - what is it and why does it matter?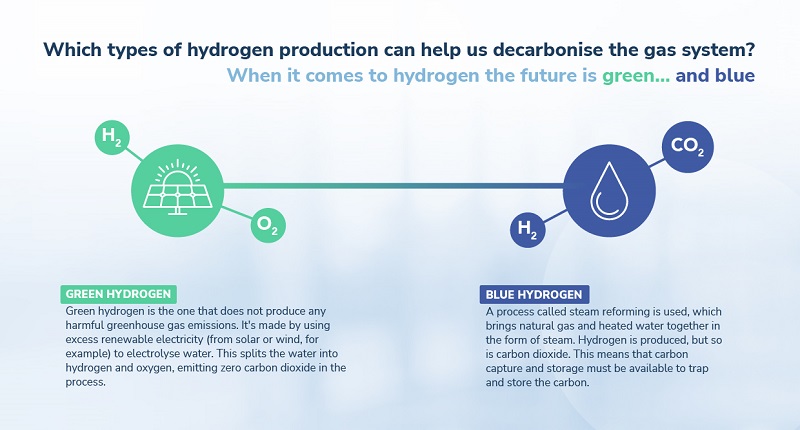 Will consumers feel the impact of hydrogen blending? 
When it comes to the impact on consumers, it seems unlikely the public would even be able to tell their gas is a hydrogen blend. A gas flame will still burn the same colour, and appliances won't need to be modified or updated.
"A lot of work has been done looking at consumers' appliances and meters, and a 20% hydrogen blend is the limit for not having to make any changes," says Megan. "That's one of the reasons why a 20% blend has been chosen. But we're also working with industry and other gas users to see if there are any customers out there that may be more sensitive and have specific requirements."
While consumers won't be able to tell what level of hydrogen blend is coming into their homes, it's important to note that nothing will be entering a building unless it's been signed off and approved by the HSE.
James adds that it's important that consumers see the bigger picture, too. "Hydrogen blending is the enabler to scale up hydrogen production, to bring hydrogen to different parts of the economy," he explains. "This will allow costs to fall, so that we can use hydrogen in industry, for power generation, some transport applications and for heating our homes. It's an important stepping stone for helping us get to net zero, and the decarbonised energy future that we all want."
Will a hydrogen blend alter a consumer's energy bill? 
While most people are keen to accelerate efforts to create a more sustainable future, a critical concern for all households will be whether moving towards a hydrogen blend will influence their gas bill.
"Obviously, we would be looking to keep billing and settlement processes as consistent as we can," says Bethan Winter, System Operations Manager at Wales & West Utilities. "However, there will be a tipping point. Once the blend concentration is above a certain amount, some changes will need to be made. Settlements will need to happen in a different way, to take into account the fact some households may be receiving a high blend with a lower calorific value. Otherwise, people could end up overpaying."
Furthermore, although it's possible to blend at 20%, lower blends would be used in the first instance to allow more time to understand what needs to be done to systems to ensure settlement and billing impacts do not land with consumers.
How will industry be affected by hydrogen blending? 
A common question many in industry have is around how hydrogen will be purchased.
"One of the primary goals is to facilitate blending as soon as possible," says Joel Martin, Biomethane Connections Manager at SGN. "The Uniform Network Code (UNC) is a proven market framework for gas. Hydrogen could fit into this existing framework's arrangements, and this is generally the current direction of thought. However, there is - understandably - a review group that gives parties the opportunity to mull these commercial frameworks over."
"I would really encourage any stakeholders who might be impacted by hydrogen blending to get involved with the UNC Review Group," adds Bethan. "Electricity and producers, distribution networks, suppliers… The more representation, the better the industry can understand what's best when it comes to hydrogen blending."
Continuing on the topic of market frameworks, one project of note in this respect is H100 Fife. A groundbreaking initiative led by SGN, it's supplying 300 homes with 100% hydrogen gas.
"H100 Fife has essentially already introduced a type of hydrogen purchasing agreement under the UNC," says Joel. "This effectively proves that hydrogen energy can be used in this existing framework. It almost provides a benchmark for how hydrogen might work. At the end of the day, it's just energy, and we trade in energy, not in gas."
So, how do we start hydrogen blending?
Creating the infrastructure needed to support the uptake of hydrogen is the crucial next step. "One important point to make is that we don't actually have much low-carbon hydrogen to blend at the moment," says James. "But blending is all about enabling the production of hydrogen at scale, to bring it to our networks.
"To begin with, blending is most likely to start in and around the industrial clusters, most likely producing blue hydrogen. Over time, blending will scale.
"At this stage, it's important to be aware that everything being discussed concerns the distribution network. The transmission network is made of different materials that make it harder to transport a hydrogen blend - though not impossible. And there's plenty of work going on that's looking at the possibilities of the transmission network. But from a network point of view, we're likely to see hydrogen first blended at the distribution level."
Finally, why is it so important we all get behind hydrogen blending?
"Ultimately, because it's the future," concludes James. "In 2050, we're not going to be able to have the natural gas network we have now; it's simply not compatible with where we need to get to. Gas has an important role to play - whether it's hydrogen or biomethane - but change is afoot, and it's something we all need to embrace."
Get in touch
To learn more about how Xoserve supports the decarbonisation of gas, take a look at our decarbonisation knowledge centre.
If you have any feedback, questions or suggestions for our Decarbonisation Team, please email us.
Related links
Decarb Discussions: our decarbonisation podcast
We're exploring the gas industry's road to net zero with our dedicated podcast.
View episodes
DeliveringDecarb: our monthly newsletter
The latest news and updates on gas decarbonisation. 
Find out more