9 August 2023
Have you ever wondered how it would be to live in a house where hydrogen has completely replaced natural gas?
With net zero becoming a priority, hydrogen has gained popularity as a possible low-carbon alternative to natural gas in a domestic setting. But there are many questions on how the switch to hydrogen could affect daily activities like cooking, taking a bath, and heating our homes.
To discuss the reality of living in a house where natural gas has been entirely replaced by hydrogen, we've talked to Alex Brightman, Hydrogen Home Coordinator at Northern Gas Network (NGN).
Seeing is believing
The carbon emissions caused by the gas used by 74% of UK households for central heating is contributing to climate change. And with the UK Government striving to reach net zero by 2050, it's no surprise that targeting emissions from domestic heating is rapidly becoming a major concern.
In this context, hydrogen has emerged as a low-carbon – or even carbon neutral – fuel option, and trials are underway to evaluate its viability to replace natural gas.
As part of the evidence gathering efforts, NGN has built two Hydrogen Homes where visitors can learn about this alternative fuel and see how hydrogen-ready appliances look and function. It is here that Alex educates visitors on the opportunities of living in a hydrogen-fuelled house: "Essentially, I'm here to show that living with hydrogen is no different to living with natural gas," she explains.
Located in Low Thornley, near Gateshead, the properties are fitted with hydrogen gas appliances, including cookers and hobs, fires and boilers, and a hydrogen meter. The homes were built in partnership with Cadent and the Department for Energy Security and Net Zero, and offer a glimpse into what the hydrogen-fuelled homes of the future will look like.
Debunking hydrogen myths
The Hydrogen Homes have become quite popular, and thousands of visitors, including students and teachers, have come to see them from all over the UK and beyond.
"The Hydrogen Homes have been open for two years now," says Alex. "In fact, we recently welcomed our 3000th visitor.
"There's no difference to the way you use hydrogen, so there's no learning curve for the end user. But there's often a lot of myths from consumers surrounding hydrogen, so it's important to focus on the facts."
So, what common myths does Alex come across?
"Hydrogen produces water vapour when it burns, so I get a lot of questions about cooking. Does food end up soggy? Does anything need to be added to make it taste better? The answer is no; your food does not come out soggy. If anything," she says with a laugh, "I think cakes tend to rise better!"
"Another thing people notice is that hydrogen doesn't have a smell," Alex adds. "It's true that at Hydrogen Homes we don't have odorised hydrogen, but a lot of people don't realise that  the gas we use currently doesn't have a smell either, it's artificially odorised to the recognisable smell we associate with Gas today.
"The same can be done for hydrogen, so it will smell the exact same smell as today with  gas. this will be added before hydrogen goes into the network, as part of the normal health and safety requirements."
Of course, hydrogen is not a new innovation, and has been successfully used in industry for many years. "But with change comes uncertainty," Alex acknowledges.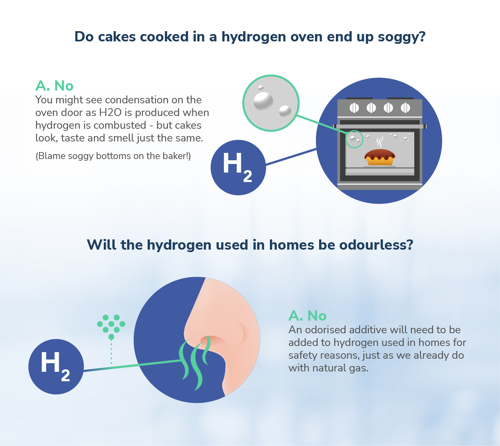 Part of the solution
Uncertainty is also the keyword when it comes to the overall role of hydrogen on our path to net zero. While the carbon neutrality of hydrogen makes it a promising solution to help decarbonise domestic heat, is it clear that this alternative fuel can't be the only solution to reduce our carbon footprint.
For example, when it comes to decarbonising the UK's existing and incredibly varied housing stock, it's clear that hydrogen is best used in combination with other net zero technologies.
This is what is being evaluated at the NGN's Customer Energy Village, which aims to explore different ways of reducing the environmental impact of UK homes. The site incorporates nine different properties built with traditional building methods - from 1910 terraced houses and 1930's semi-detached homes, to bungalows and flats. The results of the project will provide helpful insights on the best technology mix to decarbonise a wide variety of buildings – with hydrogen being part of the equation.
"We certainly need a whole system approach," explains Alex. "We are not trying to shout that hydrogen is the only answer to stop climate change and deliver net zero. It's just one of the pathways we can take, it's part of the solution.
"However, with other technologies there is a learning curve and people might struggle to understand. With hydrogen, you just need to update your appliances and there is nothing new to learn," she concludes.
We might not have an answer yet on how the energy system of the future will look like, but it seems certain that hydrogen will play an important role in some capacity.
"If I had an 'energy magic wand' and could make anything a reality, I think my biggest dream would be large-scale, affordable green hydrogen production," says Alex. "This would benefit not just those on the gas network, but everyone."
To learn more about the reality of living in a hydrogen home, you can listen to Alex's podcast episode below, and keep up to date with the latest developments in hydrogen trials in our Decarbonisation Knowledge Centre.
Living in a hydrogen home
In this episode of Decarb Discussions, Alex Brightman, Hydrogen Home Coordinator at Northern Gas Network, explains the benefits of using hydrogen for residential heating and cooking, and debunks some of the myths surrounding this low-carbon gas.
Get in touch
To learn more about how Xoserve supports the decarbonisation of gas, take a look at our decarbonisation knowledge centre.
If you have any feedback, questions or suggestions for our Decarbonisation Team, please email us.
Related links
Decarb Discussions: our decarbonisation podcast
We're exploring the gas industry's road to net zero with our dedicated podcast.
View episodes
DeliveringDecarb: our monthly newsletter
The latest news and updates on gas decarbonisation. 
Find out more